My beginnings with graphics were pretty twisted. When a computer science teacher showed us (students) the basics of graphic design, Adobe Photoshop was in version CS2. That's when I started to pick up this topic. However, being in high school and at the age of 16, I had not thought about learning how to design websites, UIs, or illustrations. I had better things to do - party, girls and stuff.
Then came university and design stopped being existing for me. I had no time for it — I only had time for studying. After a year, I found that the university course that I chose did not correspond to my interests. I left and applied at the College of Informatics with a specialization in computer graphics.
At first, I did simple website designs for friends for very little money. (no, I will not show them to anyone :D). Later, after the discovery of dribbble.com - I was so enthralled with all these cool graphics that I could not stop thinking about design. At this exact moment I was sure - yes! This is what I want to do!
My skills were rather poor back then. Everything has changed when I received an invitation to Dribbble from Gert Jan Lodder - it was about a year after I discovered Dribbble. After a while, I started receiving work inquiries from Dribbble and that's how it has continued until this day.
What does your typical workday look like?
Right now every day is different. Besides being a freelancer, I'm also a teacher at a local school. A typical workday looks similar to this:
classes at school
coming back home
checking emails and Dribbble
working on current projects
end of the day at 5pm or 8pm (depends on when I finish work at school)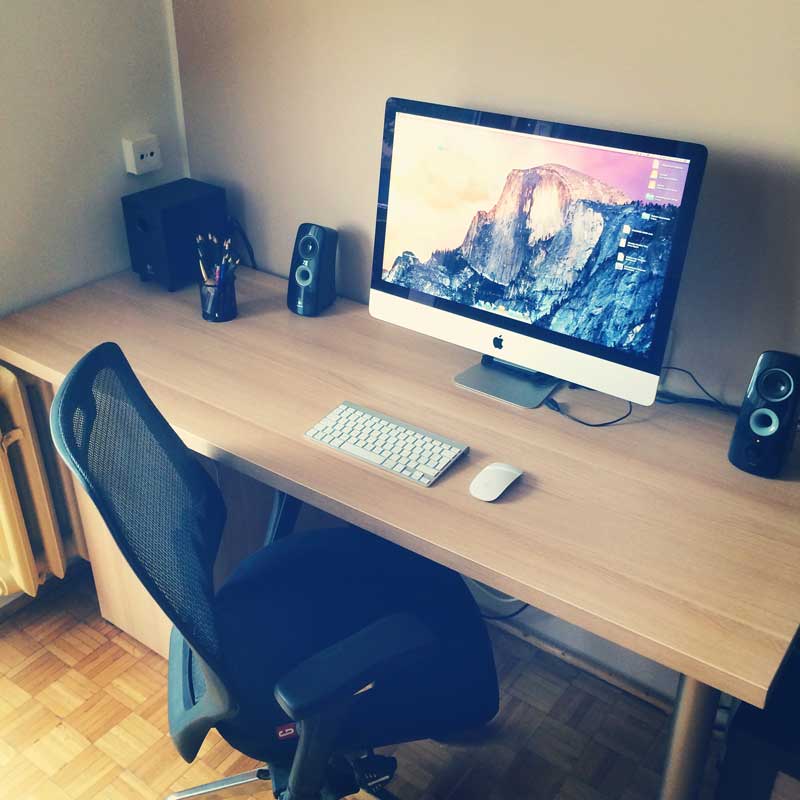 Who or what inspires and influences your work?
There are many people that inspired me at the beginning of my career — so many that I won't include them all. But the most important of them all, the ones that helped me to grow my skills are:
Mike - What this guy does is literally crazy. I started getting into real illustrations because of his work. I don't do these anymore but I've learned a lot from him that helps me today with creation of UIs.
Arek Kajda - Great designer that sometimes helped me get the perspective right. :) When you're looking at the same project for a couple of hours straight, you can't see your own mistakes.
Whereas today, I have to mention these guys:
Greg Dlubacz - Dude makes great websites that can be a huge inspiration.
Julien Renvoye - Terrific style and projects that are eye-candy — that's what I like.
Wojtek Witkowski - I think he's seen every single one of my projects before it even appeared on Dribbble. Great friend with big attention to detail.
What else inspires me? It seems to me that it is mainly other designers. I'm not the type of man who assumes that everything around me is inspiring. Rather, I am inspired by the work of others. It might sound strange, but that's the way it is with me. You know what I mean? You look at someone's work and know that you want to do something similar, but even better for you and for your project. And you do it. You figure out how to order all these elements together to make it yours.
Besides, there are also inspiring conversations with other people who also do what you do. Sharing thoughts. Giving and receiving advice from graphic designers is really inspirational to me. Besides, also talking with programmers - because sometimes you have to give up, despite the desire of some solutions, and validate your own assumptions.
What is one project you are most proud of?
UI: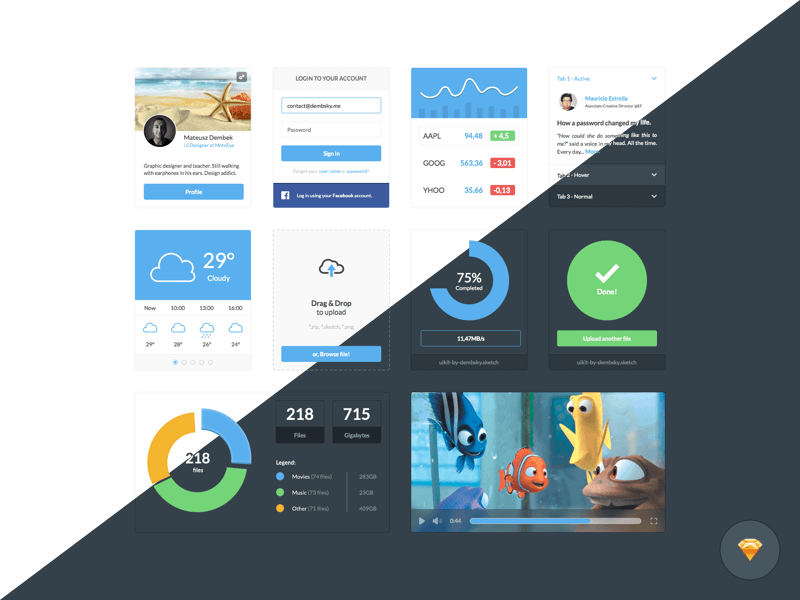 (https://dribbble.com/shots/1698067-Dark-and-Light-Ui-Kit)
Being proud of a UI Kit is probably not something that I should be doing since there are so many of them on the web. This kit is a good portrayer of the style that I'm currently comfortable in and that I really like. I think that it's very clean and readable.
Illustration:
https://dribbble.com/shots/698719-Commodore-Datassette
https://dribbble.com/shots/869494-Card-with-ribbon
I remember to this day the excitement while designing these illustrations. It was great. Who knows, maybe I'll revisit them some day.
How did you get introduced to Sketch and what do you like most about it?
Well, when I first opened up Sketch, I though I'm not likely to switch from Photoshop. However, when I spent more time with it, I found out that it is a great tool. Unfortunately, Sketch had only few options and too many problems to fully replace PS. It took some time and a few updates and suddenly it turned out that this program has literally everything I'll need in my work. Then I made the decision - giving up Photoshop and working only in Sketch.
What I like the most? It is not a big overhaul tool like Photoshop. You can work on vectors and easily switch to pixels. Besides the possibility of exporting @2x and @3x, simplicity and readability is great. It all makes this program the perfect tool for me.
What are some of the tools in your workflow?
Generally coming into a new project, I receive a comprehensive brief or mockups. Then, depending on the project, I proceed immediately with design or do my own sketches. Unfortunately, they are quite lopsided :D
Sketch idea: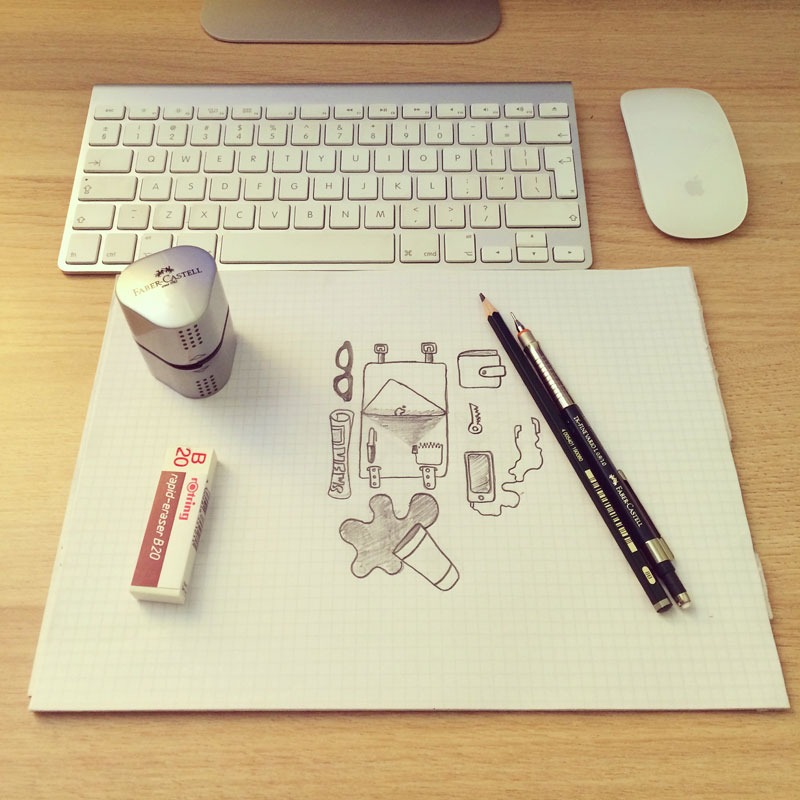 Implementation of the idea in Sketch: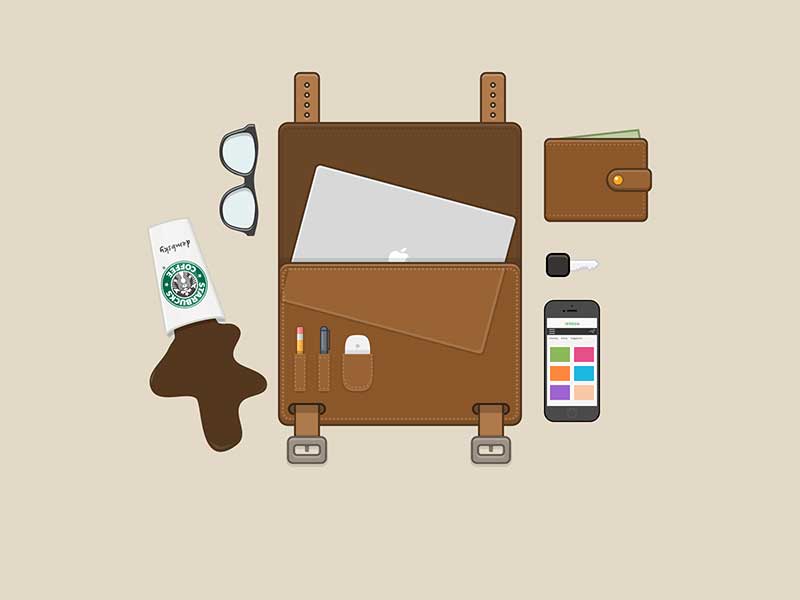 I also work on projects in which I have to prepare mockups myself. That's when I use Balsamiq and move onto design after client's approval.
I always listen to music when working. You can see it on my Spotify profile. It gives me energy throughout the day.
As for my tools:
Sketches: ( pencils: Faber-Castell TK-FINE VARIO L 0.9/1.0 and Faber-Castell 9000 with different hardness )
Mockups: (Balsamiq Mockups)
Mac 27" (Late 2012, i7 3,4GHz, 16GB RAM, GeForce GTX 675MMX 1GB)
Sometimes when I'm designing for retina I use: MacBooka Retina 15" (Mid 2014, i7 2,5GHz, 16GB RAM, Iris Pro 1536MB)
iPhone 5S
If you could go back in time and do something different what would it be?
Surely I'd learn Photoshop quicker. Although I do not know what the 16 year-old version of me would say. Besides - I do not regret anything in my life and have always tried to make the decisions that would serve me best.
What advice would you offer to those starting out in the field?
Work hard. I know it's a cliché but the truth is that even with no artistic skill you can be a great graphic designer. It is not just for inspiration. If you work hard, sooner or later you will get to a level of your dreams. Besides - you never stop learning. Do not work only in one area - if you do websites? Great! but try to do something new. Maybe illustrations? Or icons? If you see yourself as being a graphic designer - do everything to become one. Give yourself some time and be patient.
Thanks for the interview! This was a real pleasure!
For readers I have a little surprise. Sketch gamepad for XboxOne freebie - for commercial and non-commercial use, this file is available here only!